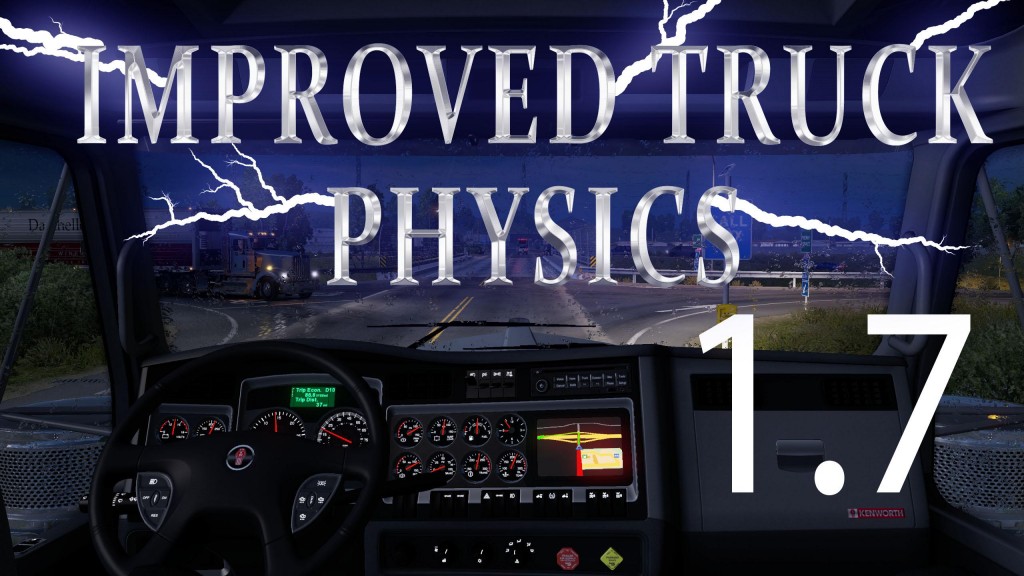 Features:
- Mod adds more realistic and hard physics for ATS trucks;
- It is now more difficult to drive a truck, "feel" of the truck is increased;
- Changed driver body movement physics, which is now less static;
- Added five new modes for windshield wipers for vanilla and mod trucks (four intermittment modes, one long, one short) from 15 item list;
- Lots of changes was made in truck behavior:
1. Changed cabin weight to a more realistic value;
2. Changed brake efficiency: less overall effectiveness an less effectiveness at low speed (but higher upper margin of "low speed"). Increased max. brakes temperature, increased warm up/cool down rates;
3. Decreased autocentering speed of steering wheel. Decreased truck turning ability;
4. Increased rotational wheel resistance and air resistance. Also, increased inertia - slower acceleration and stopping;
5. Increased clutch strength for more realistic clutch-transmission behavior;
6. Decreased retarder effectiveness;
7. Increased chassis suspension travel values for vanilla trucks;
8. Slightly decreased overall damping force for truck/trailer chassis suspension;
9. Transmission inertia decreased;
10. Added tyres slip possibility. Tyres a little less rigid now;
11. Increased flywheel resistance - RPM drops faster, when not in gear;
12. Increased intensity of engine braking - truck slow downs faster, when truck is not given throttle;
13. Decreased engine compression - truck loses speed more quicker, when no throttle is given;
14. Increased transmission resistance - more losses in transmission.
15. Added slightly modified chassis files for many truck mods (see readme for the full list);
16. Added chassis, cabin, engine, transmission and wheel wear;
17. Less damage from truck to trailer, but overall damage level increased;
18. Updated physics for vanilla and Jazzycat trailers;
19 And other changes...
Compatible with 1.4.x of ATS. Please keep original download link!
Installation instructions:
1. Extract all files from downloaded rar-archive to some temp folder;
2. Copy BASE.scs to MOD folder;
3. Based on your requirements, copy required truck/tandem/trailer mod files to MOD folder;
4.Open in-game mod manager and enable all copied mods (refer to "correct mod installation" chapter for proper physics mod installation);
3.Play!
"Correct mod installation"
Main mod file (BASE.scs from "Base" folder) can be installed with any priority, but it is always better to install it with top priority, to make sure other mods are not interfere with it.
Mod files for trucks mods and jazzycat trailers mod (from "Others" folder) must be ALWAYS installed with HIGHER priority, than mods they are suitable/intended for.
Donate
All my mods are free to download and will be distributed this way in the future too. However, If you appreciate what i`m doing and want to support my work, you can transfer any amount of money, using PayPal on this email:
[email protected]
All donations are voluntarily! Every donation counts! Thank you!
Download links