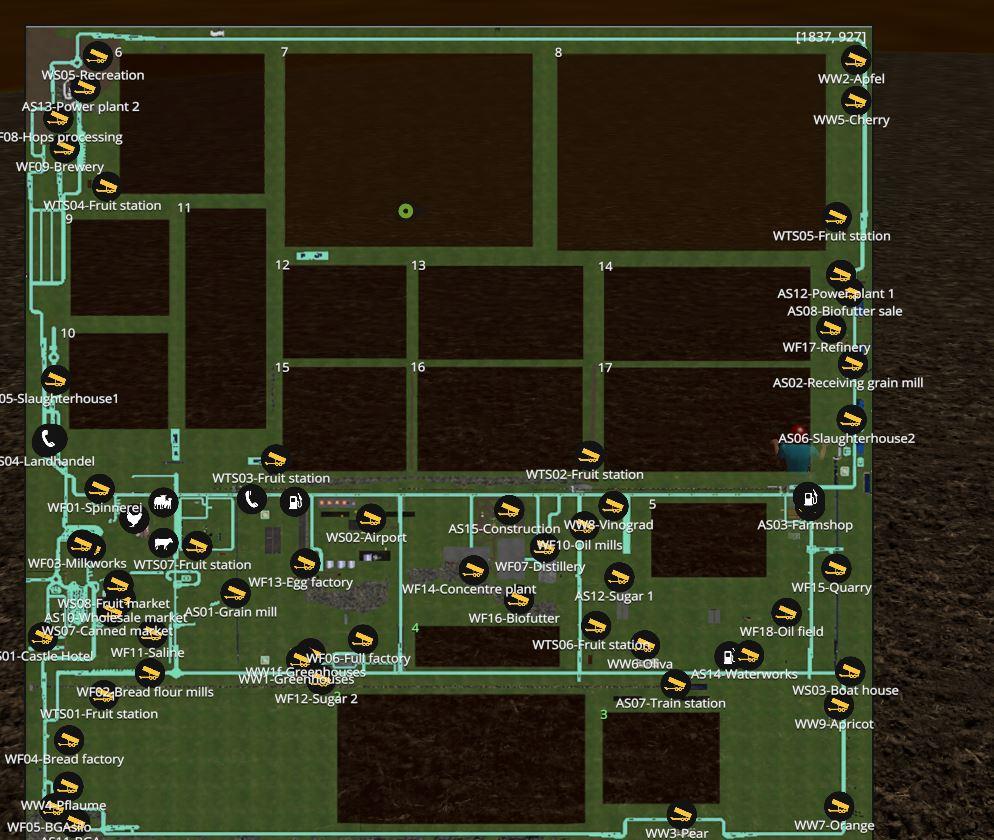 The Po River Final by Vaszics
Guide
Dear players!
The map, the FS17 is displayed, the last version.
The map parameters:
4x map
The initial game is equipped with basic equipment. ZIP files for this package must be copied to the MOD
subdirectory.
If you are planning to play is not the basic equipment, there is another solution. To do this, however, should be used for the map, it proposed a separate package ZIP files. This package includes, for I have proposed and tested machines, tools, and utilities.
Both versions of the 1 Euro 1-2-3-4 arable land, the rest have to buy at higher prices.
The one field is all grass. From here you can provide the grass for the animals.
The plants of the stores and other various objects (number 9 key) prefix are marked on the map, and information fields.
The significance of this to get a complete picture of that object which fruits are necessary and what can be sold in stores.
In management, the size of the resulting prices depend on the transmission distance and difficulty of the approach.
During the game, the map is a lot to explore. The surface of the water permeable and therefore may be underwater tour
overcome critical.
The traffic propose to turn because it enjoyable.
Animals: cattle, sheep, chicken, lamb, pork, beef, fattened cows, sheep fattening, fattened chickens, rabbits, geese
Crops: wheat, barley, canola, corn, potatoes, sugar beet, sunflower, millet, spelled, rye, poppy seeds, oats, peppers, onions, tomatoes, cucumbers, strawberries, apples, pears, plums, cherries, olives, oranges, apricots grapes.
plants:
Bio Power factory: fattening feed, rapeseed cake, rabbit feed, feed geese, chicken feed
Bread Factory: bread, cake
Cannery: canned vegetables, stew, sweet corn
Fruit juice plant orange drink, drink apricot, plum drink
Yogurt plant apple yogurt pear yogurt, strawberry yogurt
Dairy: long-life milk, cottage cheese, yogurt, cheese
Distilleries: vodka, cognac, cherry liqueur
Oil mills: olive oil, canned olives
Oil Refinery: gasoline, motor oil, diesel oil and crude oil from field
Brewery: lager, dark beer
Concrete plant: concrete
Cotton Processing: cotton bales
Grain mills wheat flour, barley flour, maize flour
Egg Factory: pallet egg
Chunky egg: the designated places (the automated collection, not for sale)
Other plants: sugar, salt, hops, gravel, sand, cement, silage, mixed fodder, oil rigs - crude oil
Sales: mill, grain port, farm shop, LANDHANDEL, fruit market, canned food market, one slaughterhouse, abattoir 2, Castle hotel, airport, boat house, dock, rehabilitation, railway stations, wholesale markets, wholesale markets organic feed, fuel wholesale market
The game loaded The_River_Po_Final_by_Vaszics_Modpack suggest a parallel package in which devices are capable of performing tasks in the game.


Download links