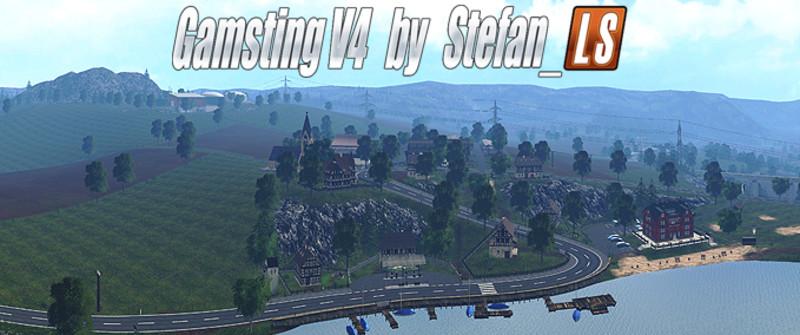 Welcome to Gamsting for the LS 15!

Gamsting V4 was expanded to the size of a standard map after more than 10 months of construction, although changes were made to old sites.
Gamsting V4 includes the following new locations and functions:
- New! BayWa Agrar (potato and grain sales)
- New! Südzucker as official sales partner for the sugar beet
- New! BGA disc with two passage silos
- New! Farm now also in the village of Scheibling directly at the pig farm, which was now also extended by a cattle mast
- New! Carpentry of El_Cid
- New! UPK for the separate use of silos on the entire map
- Meadows and fields in various sizes
- Complete revision of the old map
- New! Production of beet pulp by beetMaster at Südzucker location
- Many small details that make the map more lively

In the middle of the mountainous region of the Bavarian Alpine foothills is almost completely cut off from its environment the idyllic Gamstinger valley surrounded by majestic mountain ranges and inhabited by witty citizens Gamstings.
Of the once numerous hermit courtyards blooming with agriculture, forestry and animal husbandry in this secluded area nowadays testify only its sumptuous and rich fields, pastures and cleared forest areas. The only remaining farm northwest of Gamsting now responsible for the management of the whole valley. Here it is necessary to provide and manage the village's own biogas plant, a biomass cogeneration plant and its own livestock.
The local subsidiary of BayWa is the only partner for the farmers in the region. Nevertheless, the agricultural machinery trade and the Warehouse offer a wide choice and a rich assortment. When selecting your equipment and agricultural machinery the mountainous conditions should be considered. With large, bulky equipment, even the most experienced farmer reach its limits.
Gamsting was created with great attention to detail. Many hours of work have been invested in order to arrive at that conclusion. The map was prepared and modified 4 months for the LS 15. It is in this map for the first time in the LS 15 possible to load his felled tree trunks on the boxcar and send off the train. The logs are then sold in the tunnel at the nursery. The map features a true rail tunnel. ;)
Please respect the work of modders and let the map as it is. Thank you!

The following locations are on the Map:
Farm
(House, 2 grain storage, storage chips, fertilizer and Kalklagerhalle, 2 machine rooms, shelter, straw, washing area, chicken coop with spout, cowshed with pasture, Sheepfold pasture)
BayWa
(Administration building, carriage house, seed storage, Getreideabladedurchfahrhalle, potato and Rübenabladehalle with Art dunghill, 4 elevators)

Biogas plant
(2 fermenters, storage tanks, CHP container, 2 shelters, scale, operation house, transformer station, 2 drive-through silos and a manure pit)
Village
(5 houses, gas station, church, castle, construction, machine hall of the farmer)
Nursery
(Sale Building, Warehouse with seed storage space)

Freight depot
(Administration building, warehouse, timber yard, Holzverladeplatz)

Dealer
(Sale Building, Workshop)

Spinning
(3 factory building with sales outlet)

Dairy
(Production building)
Carpentry
(Production buildings, storage chips)
Heating plant
(Power plant building, Wood storage, transformer station)
Restaurant
(Restaurant Building, Warehouse and playground)
Power supply system
(High- and low-voltage poles, house utility poles, substations and distribution boxes)
Train route with real tunnel
(2 level crossings with barriers, 3 tunnels, railway route is used to transport logs and grain transport)
Road network
(Almost complete DIY, signs, guard rails, underpasses)
Many bran details provide variety on the Map

Required Mods:
AnimationMap Trigger: http://vertexdezign.net/downloads/animationmaptrigger

If you accidentally sold to Kärcher, which is by default starting career start at the washing area, you can watch here the line for vehicles.xml copy and paste into your savegame:
<Item class name = "HighPressureWasher" filename = "data / placeables / highPressureWasher / kaercher / kaercherHDS918-4M.xml" position = "283 827 110 297 -790 901" rotation = "0 1.4615 0" />
For questions and problems you may like this sent to me in the comment section.
Have fun with my modification wishes you Stefan_LS!

Notes:
- The mod may not be re-uploaded without my consent - The mod can be rebuilt only for private purposes - The mod may not be offered only to the original download link to download!
Please note the readme included in the zip file!


Download links
">